Going back to school has always been a long-cherished goal. Despite my experience as the Founder & CEO of POPxo-Plixxo, or maybe because of it, the idea of reinforcing what I have learnt on my start-up journey through trial and error as a first-time entrepreneur is exciting.
The pandemic made 2020 memorable in so many ways for all of us. For me, personally, it was a watershed year. I began the new year all set to close the Series C funding for POPxo-Plixxo only to have the investor pull out at the last moment.
It is a tough spot to be in for sure — but when it happens at the end of the company's financial runway and a global pandemic is then unleashed —the situation escalates to the textbook definition of dire straits!
To cut a long and stressful story short (and much to my relief), POPxo-Plixxo merged with MyGlamm. In August 2020, I joined MyGlamm as Co-founder & President.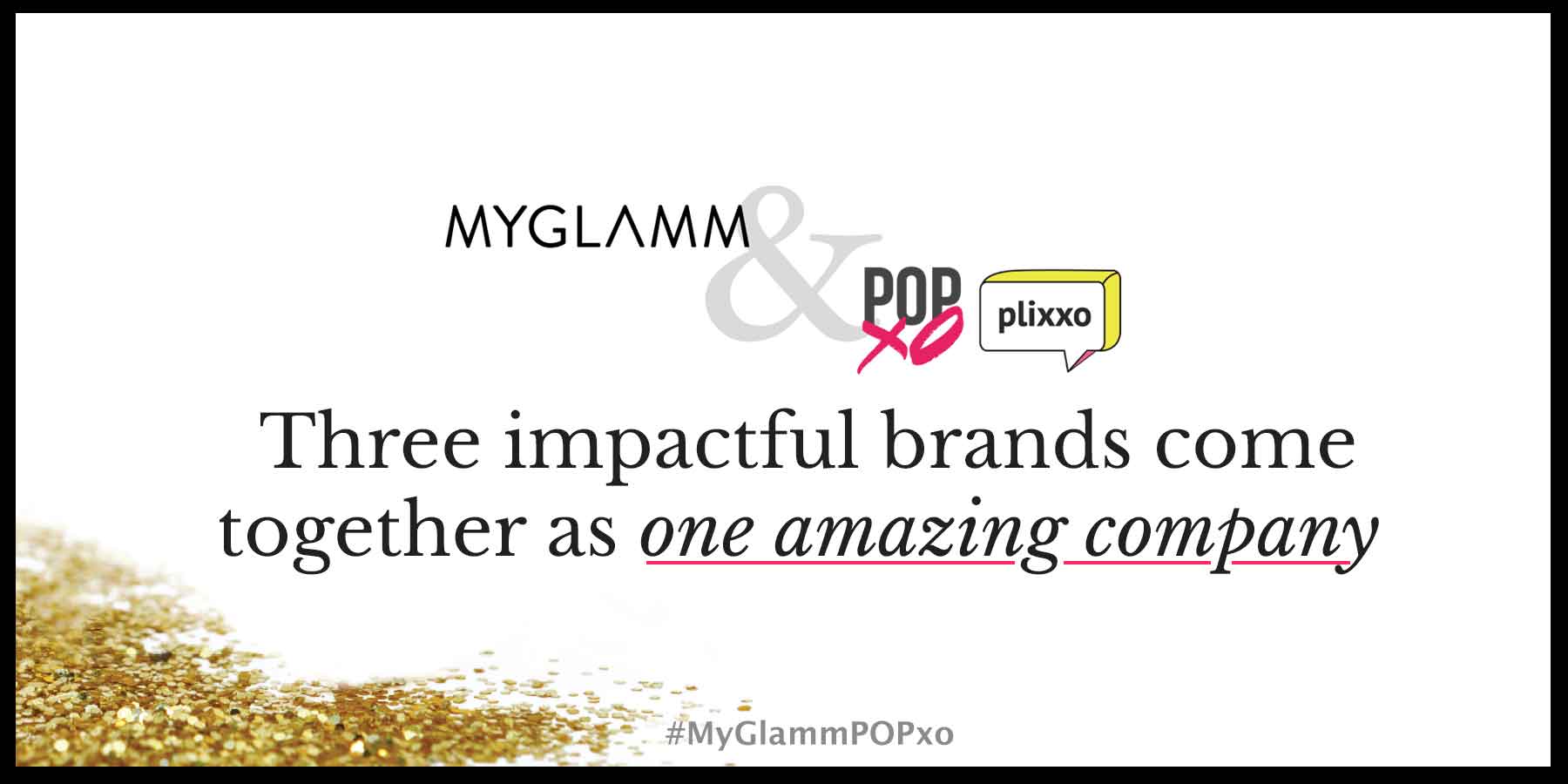 In September 2020 I moved back to London. After all, work-from-home can be done as easily out of my dining table in London — I just need to wake up at 5.30 AM to begin the work day. This early schedule opened up the second half of my day. I began to explore my options. Hussein Kanji of Hoxton Ventures has been pivotal to my journey as an entrepreneur. He brought up studying at his alma mater – London Business School for an Executive MBA. As it is a part-time programme I could continue in my current role (a full-time job is one of the requirements of the programme). This opened up the vast and wonderful rabbit-hole of EMBA schools and MBA prep.
Choosing the right EMBA programme…
After much googling and countless hours on the Gmat Club website and app,
I settled on my first and only choice: The EMBA — Global Americas and Europe, jointly offered by London Business School and Columbia Business School.
The first reason was proximity — I currently live 10 minutes away from the LBS campus. And paradoxically, the second reason to chose the global programme was the opportunity it afforded of flying to New York every other month. A key attraction for me was the concentrated format. This programme is offered in a 'block-week' format, which means that you are on-campus for one week every month. And it goes without saying that both London Business School and Columbia schools are both top business schools. But mostly — I was looking forward to meeting a wide cross-section of interesting and accomplished people from London, New York and pretty much all over.
After 20 months, one (hopefully!) ends up with a lot of interesting connections and friends, an MBA degree from LBS and one from CBS with alumni status in both schools.
By late December 2020, my mind was made up and I began researching the application process.
Writing my Resume
First came, the challenge of the resume — in my case — I had none. Over the past 15+ years, I have worked as a journalist & editor, an investor and charity-event organizer. I then became the founder of two companies which then merged with a third! All in all it was a very eventful decade and half — but I had no formal resume to show for it. I had never before applied for a job so I didn't really need one. I tried to write mine but with no worthwhile results. Thanks to Google I chanced upon Leah Derus of fxMBA Consulting. She is a specialist in what she calls the 'story-resume' and I began working with her to help write mine. It was a cathartic process in many ways. Over a series of calls, we began to unpack my journey and Leah painstakingly got to the crux of my non-traditional story and for the first-time in my life — I had a resume.
Preparing for the Executive Assessment Exam
Parallel to this I had to cross the big hurdle — the Executive Assessment exam. It is similar to the GMAT (minus the geometry section) — with three sections: Quantitative reasoning, Critical reasoning and Verbal reasoning. For my Bachelor's degree in English from Lady Shri Ram College, Delhi, standardised testing was not a requirement. Plus, mathematics has never been my strong suit. To begin the EA prep, I ordered the entire set of GMAT books — one glance at them and I realised I really needed help. This time LinkedIn came to the rescue and I connected with Aditya Kumar. Over weekly online lessons, he patiently explained the mathematical principles and drilled into me that the EA was a reasoning test — not a test of pure mathematical ability. This prep was reinforced with weekly worksheets to practice apply concepts I had learnt. It was hardwork — flashbacks of my high-school mathematics class were strong. I supplemented this by watching all the videos on the Magoosh app — they were really helpful. I took the EA practice tests and finally sat for the online EA exam. Much to my relief, my EA score met the threshold for the programme and I was one hurdle down.
Writing the Essays and totalling the costs…
Three essays make up the bulk of the application. Leah helped me polish them. Having a sympathetic and experienced editor really helps — even if you are a decent writer yourself. Writing the essays helped me clarify my motivation for signing up for 20 months of intensive work, on top of my challenging job.
The EMBA is not an inexpensive undertaking. I had a long, forever-evolving and detailed list of pros and cons. This list was supplemented by a continuous internal monologue which did not stop till I pressed send on the application pack!
The interview and the wait!
As an entrepreneur — I am used to being interviewed for PR. But I had never been interviewed for a job. And as Leah pointed out to me — I was far more comfortable talking about our accomplishments at POPxo-Plixxo-MyGlamm than talking about my own self.
Telling my own story does not come naturally to me and I did have to practice to make it both concise and coherent.
Ultimately, I actually enjoyed my interview with Brett Hunter, Director of Admissions and Recruitment, Leadership programmes at LBS. This was just before Easter and after 10 days or so — I had my offer letter — on April 1!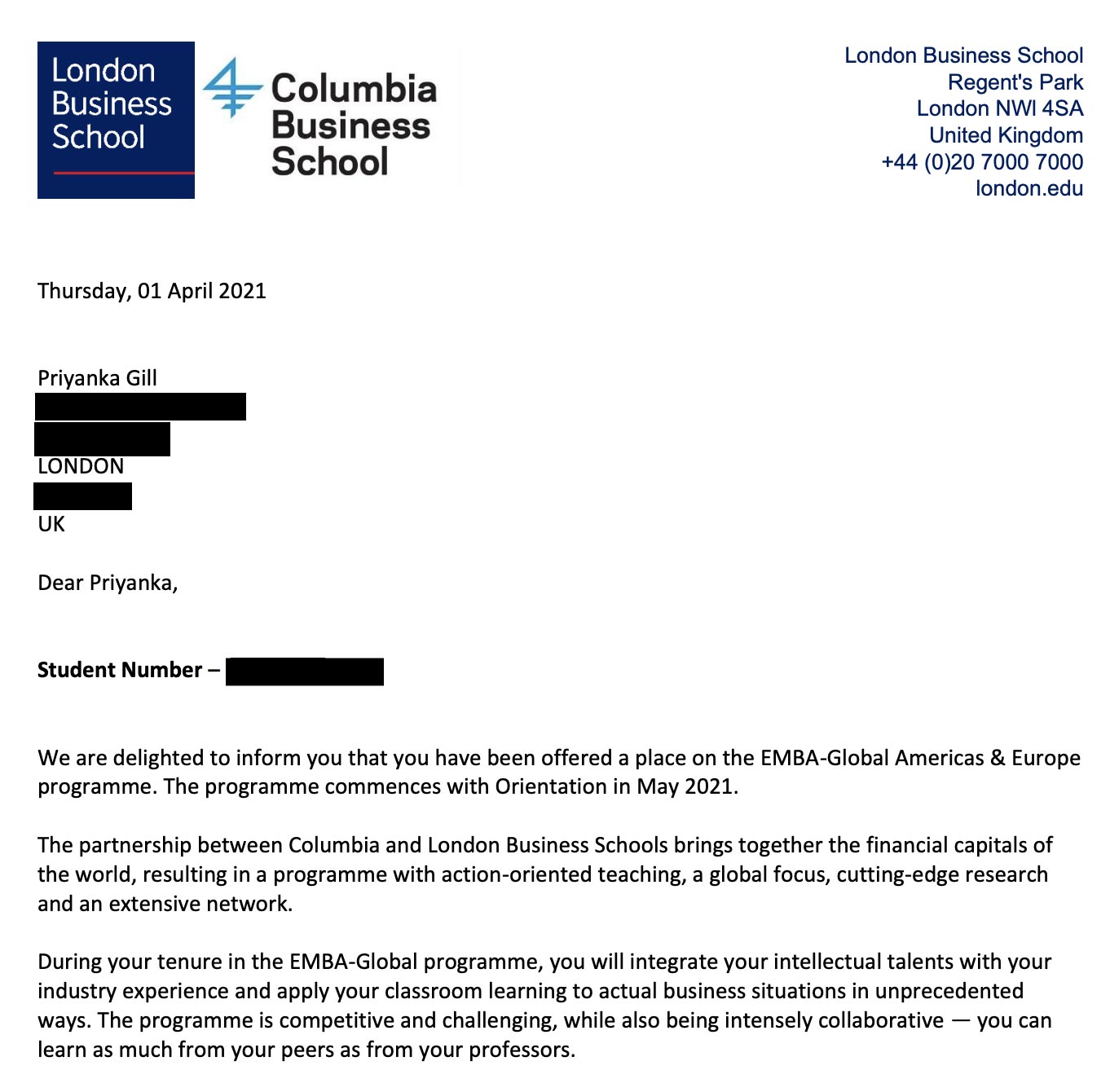 The EMBA journey begins…
I am excited for what lies ahead. I will try and chronicle my experiences at Columbia and London Business School. Here's hoping that it's going to be a productive and fun experience.