Getting your offer letter from the school of your dreams is an exciting moment. You have studied for it, written endless essays, been interviewed and of course you have been running numbers, weighing the pros and cons to answer one questions "Is an MBA worth it?
Once you accept the offer and pay the deposit— it begins to dawn upon you that the next few years are going to be very interesting. You want to make the most of your Executive MBA experience — what should you keep in mind?
Here are some of the things I suggest — they worked for me.
1. Breathe.
I can not stress this enough. The offer is the culmination of a long, taxing and stressful process. You have been through a lot. It is a moment to be savoured. So mark this moment. Celebrate.
2. Announce on LinkedIn.
Now that you have accepted the offer — the first thing you do (after telling family and friends) is to announce it on LinkedIn. You do it in three places and I suggest doing all at the same time. Once you add the school to your LinkedIn, it will be pushed out to your contacts and if your post is also up — they can congratulate you there. If you only update profile then all the messages end up in your private inbox.
a. LinkedIn Profile Headline: Check our previous students to see how they referenced the school. I added "Columbia & London Business School EMBA Candidate"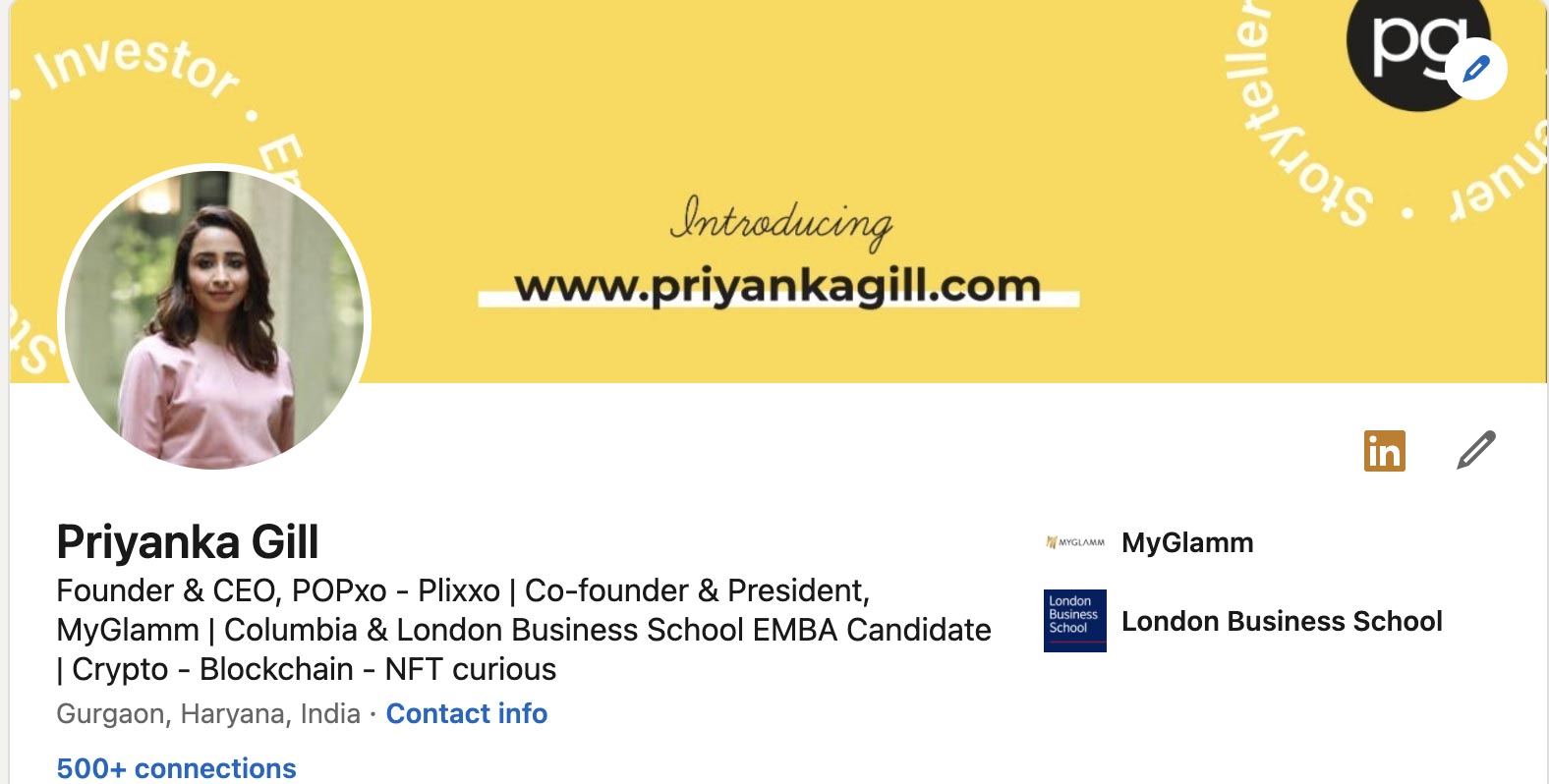 b. Adding the school to the education section. Remember to tag the official school profile and double check the year so you are in the right cohort.
c. Writing a post. It is a good idea to write a post to announce your EMBA plans. Make it personal. Tag and thank people who have helped you get there. tag the school as well. Aim for authenticity when you write the post — it will help more people connect to your phenomenal news. I wrote a post on Medium (link) and shared it on LinkedIn.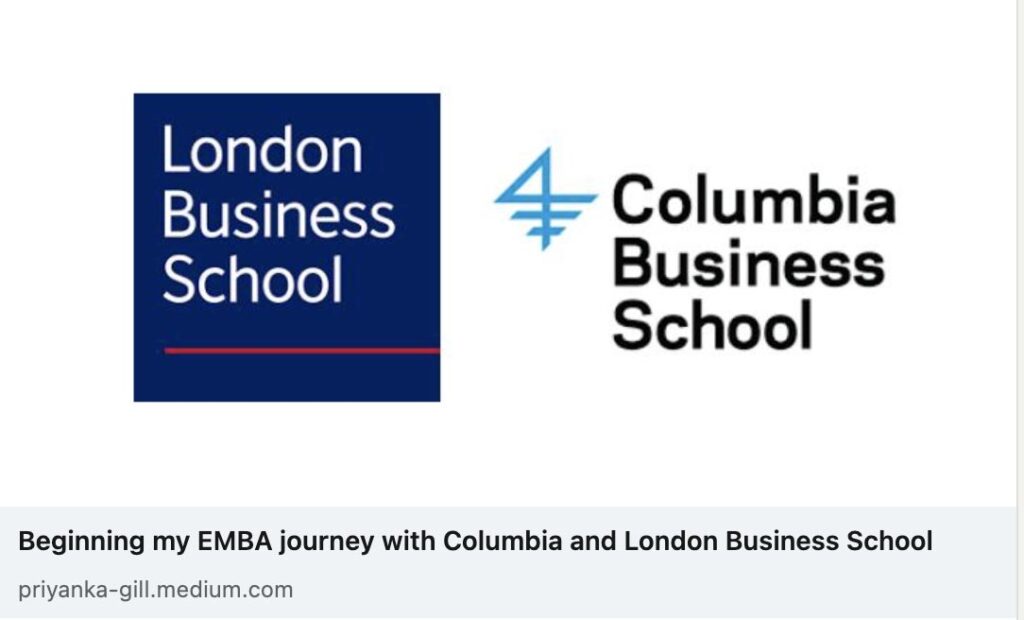 3. Announce your EMBA acceptance on all other platforms!
If you are active on Instagram, Facebook or Twitter announce it there too. A comprehensive announcement reaches all people in your multiple networks and this pays off in the long run, especially when you are looking to change jobs, industries or even move up in your current role post- EMBA. Don't forget to tag the school. All the responses I got were congratulatory and I even managed to reconnect with people had lost touch with. It goes without saying, do respond to all the messages you get.
4. Update your profile(s)
If you haven't done so already — now is the time to update all your profiles, especially your LinkedIn Profile to ensure a true and flattering representation of you and your career trajectory. Not only is it important from a professional perspective — your LinkedIn Profile is going to be checked out by your fellow cohort-members. It is your first introduction to them. If you are unsure — you can retain a Linkedin expert to help you. I had previously worked with Leah Derus – MBA Admissions Consultant for my resume and application pack — I used a lot material from there. My team also worked with Ashi Singhal to further optimise my Linkedin profile.
Of course, now that Ashley Paczolt, Director of Global Strategy at Linkedin is also doing the EMBA with me — I will get her comments in. She is a wonderful and fun addition to my life already.
I took the updating your profile concept further and with the help of my amazing team (Thanks Palki, Rukmini Kapoor, Smriti Notani!) set up my personal website: www.priyankagill.com. I have always wanted to build one and the EMBA afforded the perfect impetus to get it finished.
Creating your personal website is super easy — especially with Squarespace. I will do another post with my thought on professional branding and why it is important.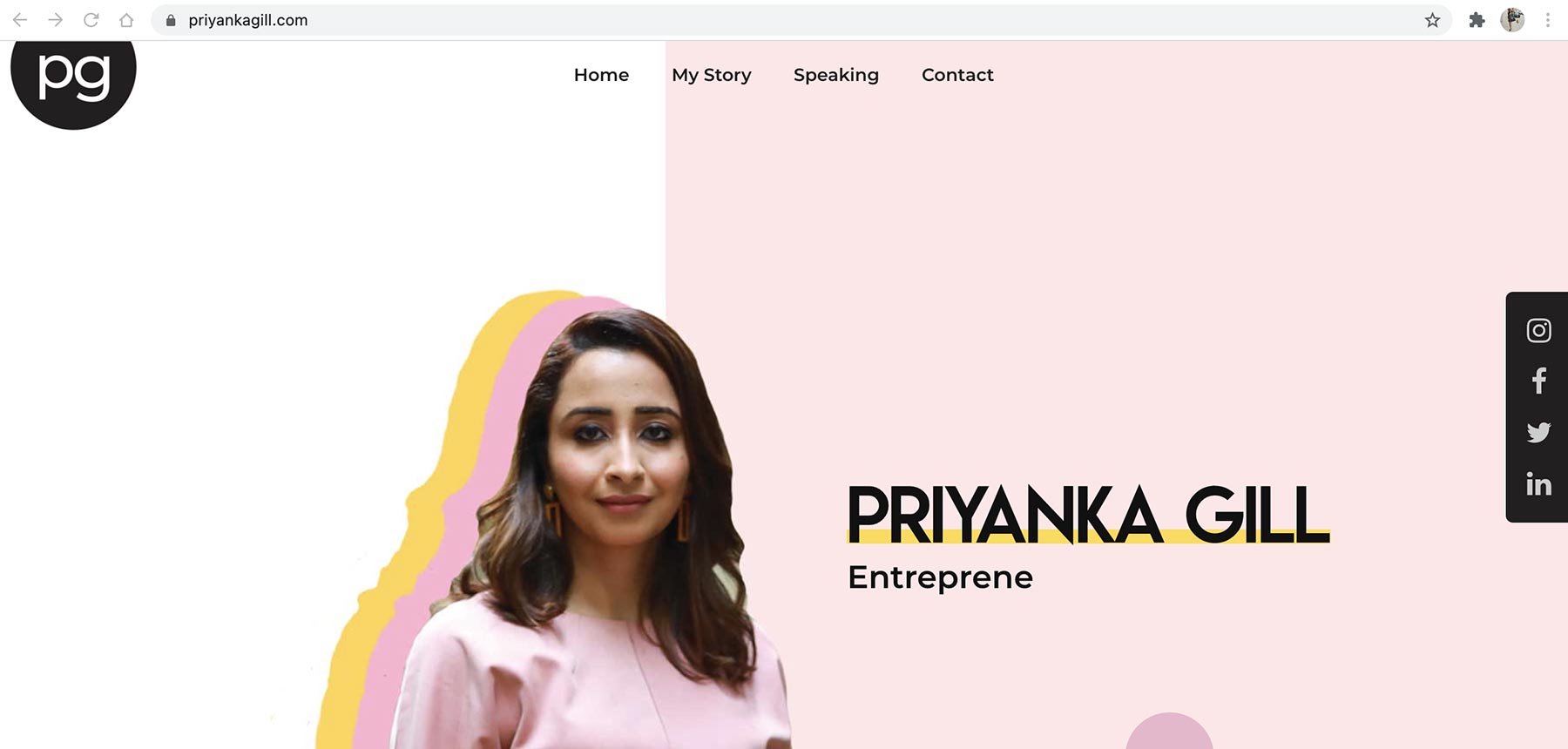 5. Connect!
Now that you have announced— let the games begin. Accept all connection requests from your cohort-members and actively reach out to the ones you have not yet connected with on LinkedIn. One of the key reasons you are doing the MBA is to expand your professional network!
6. Join the WhatsApp Group
One enterprising cohort-member would have started a Whatsapp group — get access to it! If there is none — consider starting one. For our cohort Iustin Iftime did the honours. This will be your lifeline to the programme.
7. The Intro-calls
The moment you get on to the Whatsapp group — you will begin to receive requests for one-on-one 'Intro' calls. Given the pandemic — all of mine were virtual. Most I really enjoyed! Think of these few weeks as an at-scale 'speed-dating' experience. Make time for these calls. You will make connections that will become your support group in the programme.
8. Admin
There is no other way to explain this step — except that it is confusing. For the longest time — you will be unsure as to what is happening. You will gripe and bemoan the lack of efficiency of the process. You might even wonder how do business schools not have it sorted? But suddenly it will click. The schools go through this cycle every year. Prepare to be frenetic for months leading up to the course. But also know that it all gets sorted.
A lot needs to happen in a short span of time. You need access to the school's portal. There is a fair amount of paperwork. You might need a visa. As I belated realised I needed an F1 to study in the US, despite being a British Citizen. I also needed proof of vaccination — including MMR. As mine was 40 years ago in India — I had no proof — a blood test to show antibodies sufficed. The Covid-19 pandemic complicates everything as well — PCR tests, quarantine requirements and it goes on.
Allow time for this.
The EMBA — Global is is jointly run by London Business School and Columbia Business School. As a result — we have two log-in IDs (and a third common one!), two platforms for coursework. Of course — we also get an MBA degree from both schools and Alumni status in both schools — this confusion is easily borne.
9. Pre-course Work
There will be a certain amount of reading and pre-course work to be done. If you take one thing away from what is proving to be a long post — make it this.
Do your work early — don't wait for the deadline.
In fact this also the best tip I can give for the entire MBA journey. Some pre-course work will be necessary, some recommended. Do the most you can.
If like me you have been out of school for a while, it will take time to get back in student mode. I went old-school on my prep. I have binders for every course and I printed all the readings. Printing allowed me to highlight while reading and take notes in the margins. I know it is all possible digitally — but like I said, I went old-school.
The one investment I made was in the reMarkable 2. I am really enjoying it. it substitutes my notebook. I am sure there are other solutions also — but I really like the 'pen writing on paper' feel. It is kind of like how I prefer to read on my Kindle even though the iPad also has a kindle app.
I recommend optimising your desk / workspace at home. Given many of us are WFH, it might be a redundant point. But it bears stating nevertheless.
10. Prepping for your first day at School
So your first day is getting closer. You are excited, anxious and are wondering what you need to take to school? The answer for me ended up being quite simple.
a. Laptop + charger
b. Notebook (or note taking device) + pens etc
c. Your ID (if it was sent in advance)
d. Phone charger
e. A binder with the pre-readings for the day — but I only did it on day one — it was not really needed.
f. Mask, sunglasses etc
Rest is all optional.
I carry a Tumi laptop bag as my 'school' bag. But I am looking for more fashion-forward options.
11. What to wear?
This was an important question for me 🙂
If there is a formal dress code — the school will let you know — or you can ask.
A safe rule of thumb is business casual. Having said that I wore jeans, sneakers and a smart blazer — in the startup world, it is business casual.
I will emphasise on comfortable shoes. It is going to be a long day. I also carried a wrap as I am perpetually cold.
12. Post-class 'networking'
Again — an informal poll tells me that networking is one of the reasons why so many folks do an EMBA. Unlike full-time MBA programmes, you will meet your EMBA cohort on certain days of the month. Given this, everyone wants to extend the networking possibilities to foster deeper connections with their cohort members. The Whatsapp group will come in handy here. Plan in advance. Allow for the preferences of a wide cross section of people.
The EMBA — Global programme runs in 'block weeks'. This means we have classes on campus one week in a month. For the May Block week, we were around 16 people attending in person the others were on zoom 'hybrid learning' or in New York. The socialising was hectic — we met for dinner / drinks every day. My one take-away was — do all assignments in advance — before block week begins.
For the June Block Week, I will be flying to New York to attend Columbia Business School in person. Can. Not. Wait.
13. Pace yourself
The EMBA journey is a marathon not a sprint. You need to pace yourself while really focussing on optimising your time. You are doing a demanding programme while you are a full-time employee. Add to that family and social commitments — it is a lot. Planning and scheduling your day is even more important now. Homework assignments, group calls and group work plus you have a lot more people to keep up with.
14. Stay healthy!
Eat well. Exercise. Sleep. All the advice you have ever received is even more pertinent now. I invested in the Hydrow — it is a home rowing machine and it has made working out so easy — "Peloton for rowing". Even on the busiest of days — I can fit in a 15 or 30 minute row — and that's my daily workout done.