I was asked why we need to dedicate a day to women who are building businesses when we do not have one for men. Haven't women been entrepreneurial for ever?
The answer is simple.
We do it for the young women out there.
"You can't be who you can't see"
We need to celebrate women who are trailblazers in many ways.
To show that young girl, dreaming of her future that this too is a possibility for her.
That she too can dream big, build strong and scale high.
We need to celebrate women to show their families that their ambitions matter.
All we want is equality.
As many female entrepreneurs and investors as male.
As many women who are founders, CEOs, CxOs, board members and team members as men.
Till this is not the norm – we need to celebrate days like Women's Entrepreneurship Day.
Because representation matters.
Till there is equality in representation of successes of both women and men in all kinds of media, in public and private discourse and in workplaces – we need to make an outsize effort.
We need to celebrate it till it becomes normal – till it is no longer a conversation starter.
The Good Glamm Group in partnership with #LadiesWhoLead, Invest India and LiveMint set out to #ChangeTheNarrative with a list of 100 women building and shaping India. We can all do our bit to amplify, engage, support and celebrate women who are doing this and more.
Here are 100 Indian women entrepreneurs building and shaping India.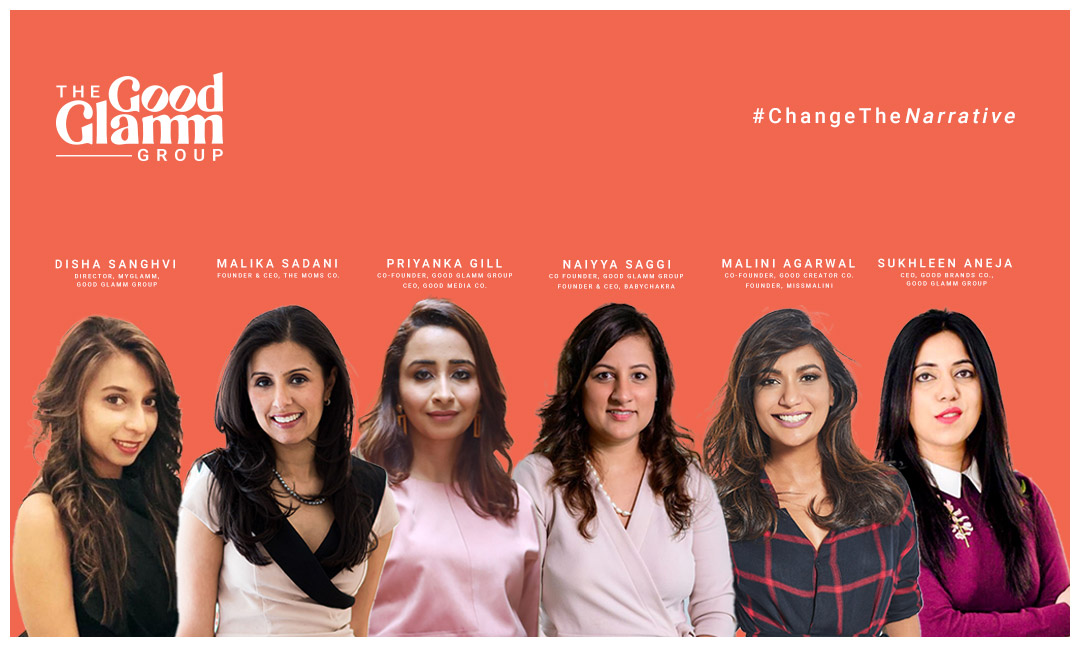 Also, to celebrate Women's Entrepreneurship Day, we hosted a townhall with the female leaders of the Good Glamm Group. In a candid and inspirational session, they told their stories – how they got to where they are today.
I am proud to be sharing the space with these dynamic and enterprising entrepreneurs – to be building and scaling Good Glamm Group together.
Naiyya Saggi, Co-Founder, Good Glamm Group & Founder, Baby Chakra
Naiyya Saggi launched BabyChakra, an online platform for parents in 2015. Her vision was to create a non-judgmental and credible community of new and expecting mothers. The result? She managed to create one of the first and most trusted parenting portals in India. The brand is now scaling new heights as part of the Good Glamm Group where she is the co-founder – spearheading the mother-baby vertical. Naiyya led the charge on the #ChangingTheNarrative initiative, helping create the list of 100 women building and shaping India.
Sukhleen Aneja, CEO, Good Brands Co., The Good Glamm Group
Sukhleen Aneja started her illustrious career with FMCG giant, Unilever. After almost a decade with the brand, she led diverse teams at Reckitt and L'Oreali. Sukhleen is at the forefront of India's FMCG industry now and working her magic at the Good Glamm Group. In 2021, she joined us as CEO of the Good Brands Co, leading the beauty & brands business. An expert communicator and marketeer, she is helping the Good Glamm Group consolidate and scale.
Disha Sanghvi, Director, Good Glamm Group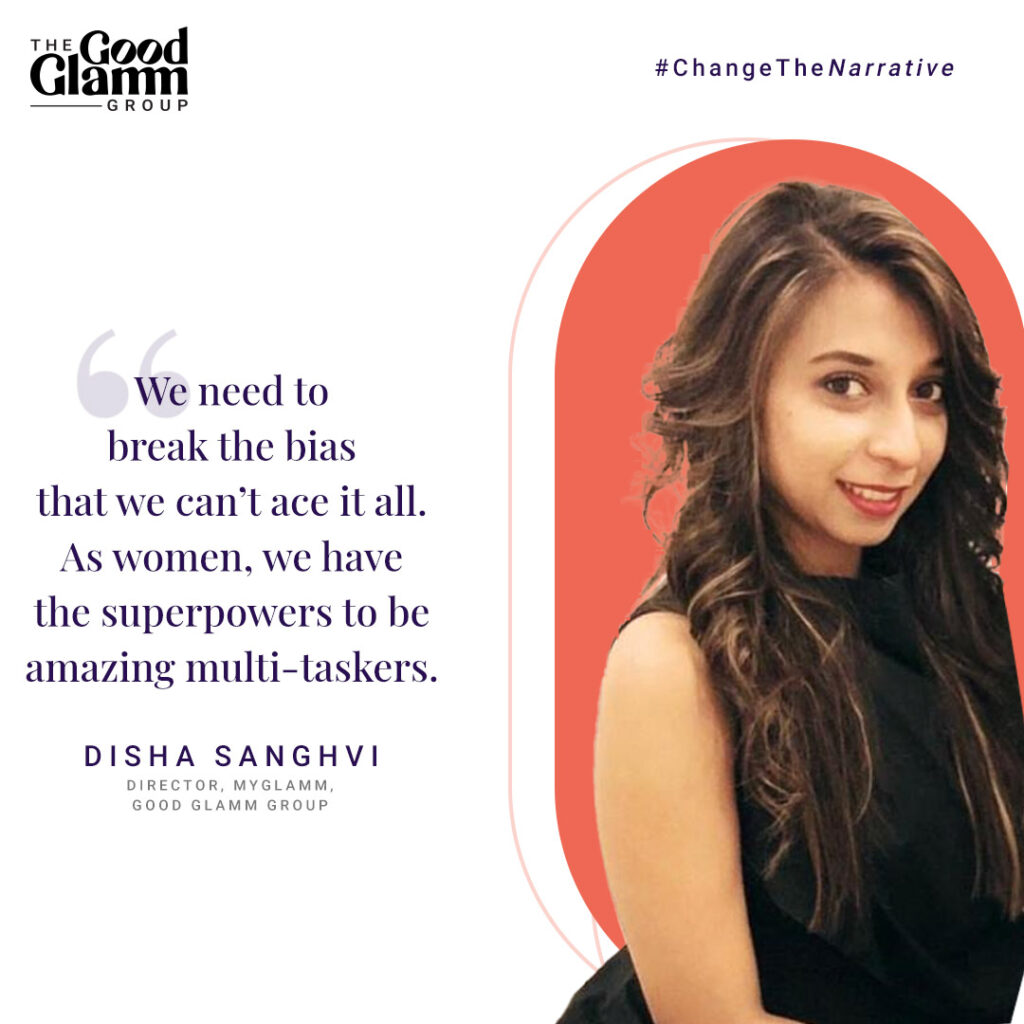 Disha Sanghvi has played a key role in shaping the story of the Good Glamm Group. She was a founding member of the tiny team that launched MyGlamm in October 2017. The products she conceptualized had a competitive edge—over 90% were 'first time in India'. Consumers fell in love with these innovative products and competitors started taking notice. And the rest, as they say, is history. From helping launch a small on-demand beauty startup to seeing it scale up to become a $1.2 billion unicorn – Disha has been through it all! As Director and head of new product development at the Good Glamm Group, she oversees a key and pivotal team that innovates across all our brands.
Malika Sadani, Founder & CEO, The Moms Co.
Malika Sadani started The Moms Co. in 2017 to give the best to her daughters. Just four years after its inception, the brand has already crossed Rs. 100 crore revenue run rate. Its award-winning range of products serve over 1 million moms across 15,000 pin codes now. Today, The Moms Co. has a team of experts from India, Australia, and Switzerland working together to create the best-in-class natural products for skin, hair, and baby care. All its offerings are dermatologically tested, certified toxin-free, certified Made Safe by Safe Cosmetics Australia and cruelty-free. Malika's 'no nasties' philosophy is winning her accolades and awards. Malika joined the Good Glamm Group family when The Moms Co. was acquired by the group.
Malini Agarwal, Co-Founder, Good Creator Co; Founder & Creative Director, MissMalini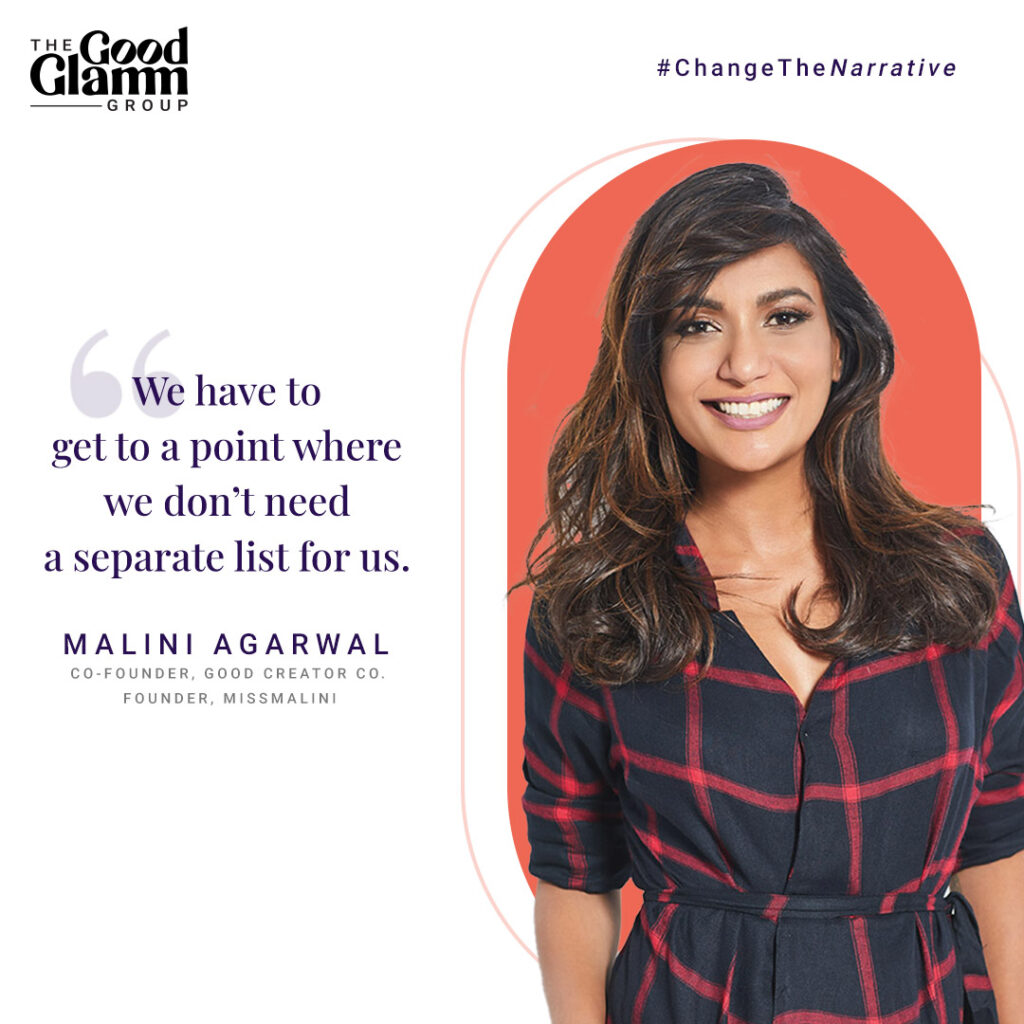 For Malini Agarwal, it all started with the launch of a blog called MissMalini. It became well known as an insider's take on Bollywood. In 2012, the success of the blog inspired her to start MissMalini Entertainment, India's first independent digital media and personality-led company. Malini has revolutionized how entertainment journalism is approached in the country. When MissMalini was acquired by the Good Glamm Group, Malini became the co-founder of its influencer division – the Good Creator Co. where she inspires the next generation of influencers and creators to earn, learn and grow!
The Good Glamm Group in partnership with #ladieswholead Invest India LiveMint set out to #ChangeTheNarrative with a list of 100 women building and shaping India. We can all do our bit to amplify, engage, support and celebrate women who are doing this and more